The most important room in any modern home is the kitchen. You eat here, entertain here and spend a great majority of your time at home in this room. Maggy Costandy Interiors Inc. is here to make sure that it's living up to your expectations. As an experienced kitchen decorator in New Bern, NC, we know how to maximize the potential of this all-important room.
Customers choose us for kitchen design because our portfolio is packed with stunning completed projects. Whether you're just looking to modernize and make a few upgrades or you're starting at the studs and envisioning a brand-new space, we're here to help. Our emphasis on comfort, beauty and functionality set the tone for a kitchen design that's sure to become the masterpiece of your entire home.
Building from the Essentials
Cabinets, countertops and flooring are the essential building blocks of any kitchen. But, while most contractors and other improvement specialists may see these items as the center of the renovation, we see them as design elements. We appreciate the allure of granite countertops and custom wood cabinets, but we also understand the dynamic these materials have on the rest of the space. Our goal is to help them all work together to create the perfect space.
Layout and Design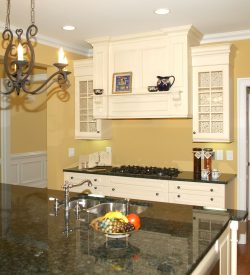 The single most important aspect of your kitchen design in New Bern, NC is the layout. A kitchen with no room for mobility or a design that under-utilizes your space isn't going to benefit you and your home, no matter how beautiful it might look. We avoid these problems by creating interior design plans that maximize available space and create dynamic solutions for layout.
Whether you're an avid cook, a perpetual entertainer or you just use your kitchen as the central room of your home, we're here to prepare a design that accentuates its versatility. We'll make sure you've got the right cabinets, countertops, flooring and appliances—and we'll also make sure the entire layout and cohesiveness of the room is ideal for your home.
To see what we can do when it comes to interior design for your kitchen, give us a call today at 252-633-5228. We'll show you the true potential for beauty, comfort and function this space has to offer.