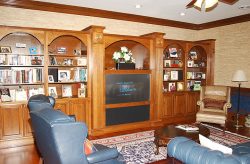 More than just sprucing up your carpet and putting a new coat of paint on your walls, we take the time to truly design a living room area that's accommodating of your lifestyle. From floors to windows, walls to furniture and beyond, our interior design services touch every aspect of the room. When we're done, it'll have the ambiance and accommodations to support a high quality of life.
Furniture and Layout
Your living room has more furniture than any other room of the home. Planning out which furniture is right for the space, where it needs to be located and what role it plays in the atmosphere of the space means succeeding in creating an ideal space. We take furniture needs and options into account to assemble a room that has the perfect layout, space concepts and natural ambiance.
Décor and Materials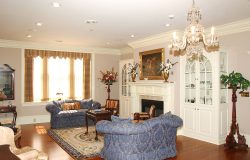 As your expert living room decorator in New Bern, NC, Maggy Costandy Interiors Inc. takes full consideration into the many décor elements of your living room. From the hangings on the wall to the adornments on your mantle to your window treatments, we take care in fleshing out the details of a perfect décor concept.
Wall to wall, floor to ceiling, our commitment to your living room is one that will have lasting results on the atmosphere of your home and your quality of life. We're ready to make this space into the premier area of your home by honing in on the core elements of beauty, comfort and function. Contact us today by calling 252-633-5228 to get started.